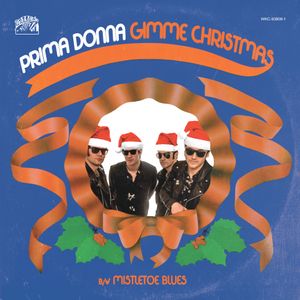 Nov. 23, 2020:
Los Angeles, CA. - Los Angeles-based Wicked Cool recording artists Prima Donna want to celebrate the holidays with you. They have a Christmas 45 coming out with "Gimme Christmas" on the A-side and their brand new song "Mistletoe Blues" on the B-side. Get ahold of the new digital single "Mistletoe Blues" TODAY. The 45 physical single comes out on Black Friday, November 27, 2020. 
  
Prima Donna is Kevin Preston (guitarist/vocals), David S. Field (drums and percussion), Aaron Minton (keyboards, saxophone and vocals) and Lights Out Levine (bass and vocals). 
"'Mistletoe Blues' is a fun tune about a lonely Christmas. It's done in the style of all those Sun Records classics." Of the previously released "Gimme Christmas," Preston quipped, "Let's just get straight to it, I came for the presents, you can keep the eggnog."  
Minton says about "Gimme Christmas," "If Veruca Salt, the bratty girl from Willy Wonka and the Chocolate Factory, made a loud, 70's  glam-rock-inspired Christmas song, this would be it!" 
"Gimme Christmas" was produced by Bruce Duff and Paul Roessler at Kitten Robot. "Mistletoe Blues" was produced by Bruce Witkin at Unison Music Studio.